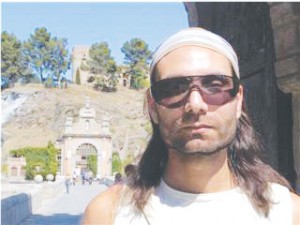 Born in Paphos in 1977. He graduated from the School of Fine Arts (1997-2002), in Athens, Greece, under the supervision of T. Patraskides and D. Mitaras.
Group Exhibitions
September 2008 - Breaking the Mould, Panicos Mavrellis Art Center, Limassol, Cyprus. May 2008 - Ficciones (de)construidas, Zona del Museo del centro cultural Tomas y valiente FUENLABRADA, Madrid, Spain.
January-February 2008 - Eikona - Xwros- Drasi 2, Texnopolis, Athens, Greece.
Solo Exhibitions June 2008 - Nicosia, Cyprus.
October-December 2007 - The salao de artes visuais sinap/aiap, International exhibition featuring sculpture, painting and drawing, Sao Paulo, Brazil.
March 2007 - Mabrida, Athens, Greece.
December 2006 - Sarka - Short-film festival, Helsinki, Finland.
November 2006 - Breaking the mould Helsinki, Finland.
April 2006 - Booze cooperativa 'maverick dogs', Athens, Greece.
July 2005 - 'En Plo' ('Εν Πλώ') Gallery, Paphos, Cyprus.
November 2004 - Pancyprian art exhibition ΕΚΑΤΕ 40 years, Melina Merkouri Municipal Arts Centre, Nicosia, Cyprus.
May 2004 - Nomadifesta 'Artrageous' group event, Kasteliotissa, Nicosia, Cyprus. November 2003 - Open Horizons ΕΚΑΤΕ, Melina Merkouri Municipal Arts Centre, Nicosia, Cyprus.
June 2002-2003- Graduating class, Athens, Greece
June 2003 - Opus Gallery, Nicosia, Cyprus.
May 2002 - Mytaras workshop Plaka-Athens, Greece.
April 2001 - Piraeus theatre, Piraues, Greece.
What inspires you?
Well about what inspires me is the world itself, in any occasions of my work, my subjects are taken from the problems that we all face as a humanity. The way that I see this problem and my thoughts around them. You can understand my work better if you check my website and see my exhibitions at www.Harispaspallis.com.
How do you see things in Cyprus?
Things in Cyprus are getting better and I can see that from the way that the young people face art. They are more involved in it and they participate in several competitions. There is still a lot to be done on art in Cyprus but we can see that things are better from before and hopefully that will continue in the same way.
And young Cypriot artists today?
I think that young artists have not been supported enough from the Ministry of Education and I hope that will change. We can see that they have supported some artists and the others didn't have the chance to contribute or participate in several exhibitions that are taking place.
Can an artist survive on art alone today?
I don't think that an artist nowadays (and before as well) could or can survive only from art. If they want to keep quality in their work they just can't. Because the audience in Cyprus and in several other countries believes that art is something decorative, they see art as a picture and don't bother to search into the art piece and see beyond it.
Your last exhibition?
The last exhibition I had in June was about landscapes. Actually they were forms construed from mixed materials expressing they way I feel and see the world, itself. Using every material separately I tried to join them all together and tried to express the way that people act. Although they are different characters, different countries, a united colour is spreading all over them, trying to create something new but keeping the difference of their culture instead.
When will your next exhibition be?
I hope soon. I am still working and if everything turns the way I want I will have my next exhibition soon.
Interview by Natalie Hadjiadamos
---