---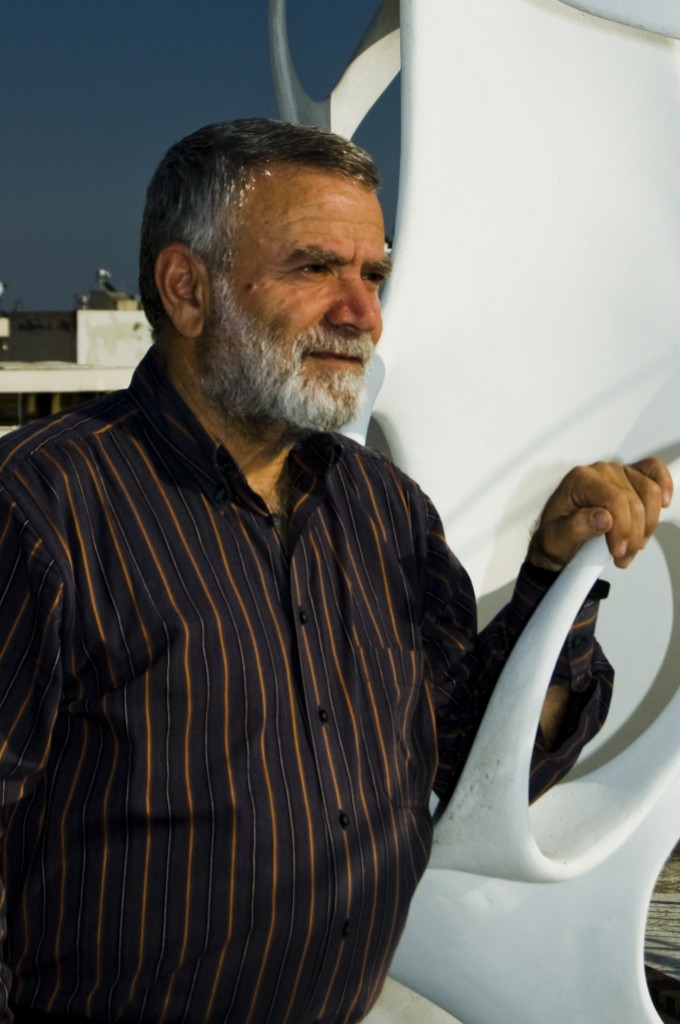 ---
He was born in Limassol in 1944. He graduated from the Lanitium Gymnasium. He studied Art at Saint Martin's School of Art in London (1962 – 1966) where he graduated with the 'National Diploma in Design', (N. D. D).
1966 – 1967 he studied with scholarship at Hornsey College of Art at the Teacher's Training Department and earned the 'Art Teacher's Certificate', (A. T. C).
He then worked for a year as an art teacher at Harrow Country Boy's Grammar School in London.
Since his return to Cyprus in 1967 he worked as an art professor at Cypriot high schools. In 1989 he was promoted to an assistant director and in 1998 to a director, until his retirement in 2004. He is both a painter and a sculptor.
Q: When did you decide to become an artist?
A: My father was a self-trained artist, active in many fields, such as painting, stage scenery and carnival decoration. This was a continuous influence for me that resulted in my taking up painting in my early childhood. At the age of 16 I presented my first painting exhibition.
Q: Where did you train?
A: I took my training in painting at the Saint Martin's School of Art in London 1962-66. I also had training in 'Teaching Art' at the Hornsey College of Art, London University Department 1966-67.
Q: How did your training influence you?
A: Cyprus had very little to offer in most fields of culture, and likewise in Art, prior to its independence in 1960. My studies in London offered a great deal of knowledge about the History of Art and the modern trends of the 20th century. This knowledge was richly supplemented by the abundance of museums, Art galleries, exhibitions, and other relative events.
Q: Where do you get your ideas?
A: Natural forms, rocks, skeletons, shells, trees, and living creatures. I am basically interested in the structure of things, both simple and complex, with intertwining circular formations presenting a basic characteristic, both on my painting and sculpture.
Q: Which artist or artists inspired you?
A: The dramatic aspect of well-organised composition in the renaissance paintings will always hold my respects. Other individual artists from all periods offer inspiration and interesting aspects and views. If I have to pay tribute to one artist this would be Picasso, for his free spirit and unlimited search in materials and pictorial ideas.
Q: Is there symbolic imagery in your work?
A: It is not so much a question of symbolic imagery, but mostly a matter of suggestive approaches, both in terms of simplified forms, and in terms of complicated and subdued imagery.
Q: What helped to shape you?
A: The passing process between painting and sculpture has been my basic source of balancing, shaping, and reshaping my work; that, alongside with my love for structure, organisation, and character.
Q: What's integral to the work of an artist?
A: Commitment to his/her own targets, truth, and above all, love.
Q: What role does the artist have in society?
A: It is simply a matter of choice. There are many roles one can play, like picturesque, innovative, revolutionary, activist, and others. The most important role is that of being there active and persistent providing and presenting his/her work.
Q: What has been a seminal experience?
A: The seven years I spent studying and working in London, my connection with my fellow Art students, and the experience of the most fruitful Art period in London during the 60's.
Solo Exhibitions:
1960 – Limassol, Town Hall
1990 – Limassol, Peter's Gallery, "Retrospective"
1991 – Limassol, Apokalypsis Gallery
1998 – Pissouri, "Lemesos"
2005 – Albatross Gallery, Aphrodite Hills
Group Exhibitions:
1974 – Hambourg, "Cyprus, Aphrodite's sunny island"
1976 – Athens, "Cypriot Artists' Exhibition"
1979 – Kuwait, "Cypriot Artists"
1985 –Lefkosia, "Contemporary Propositions of EKATE for the rehabilitation of Famagusta Street"
1985 – Lefkosia, Famagusta Gate, "Pancyprian Art Exhibition celebrating 25 years since the establishment of the Republic of Cyprus"
1987 – Athens, "Cypriot Artists"
1987 – Art Symposium at Chalki Island
1991 – Athens, "EKATE Group Exhibition"
1991 – Exhibition-Contest for the representation of the European Organisation "INTERNATIONAL ART ASSOCIATION" (I. A. A.)
1994 – Lefkosia, "Pan-Hellenic Symposium of Art Gaia Aphrodite"
1996 – Lefkosia, Municipal Art Centre, "Lefkosia through Leontios Machairas Chronicle"
2000 – Lefkosia, Famagusta Gate, "Cypriot Artists of 3rd Millenium
2002 – Lefkosia, Municipal Art Centre, "1960 – 1974, Young Cypriot Artists at the dawn of Democracy"
2007 – Limassol Municipal Gallery, "Limassol Artists honour the establishment of TEPAK (Technological University of Cyprus)"
2009 – Limassol, Evagoras and Kathleen Lanitis Foundation, "Artists 1960 – 80"