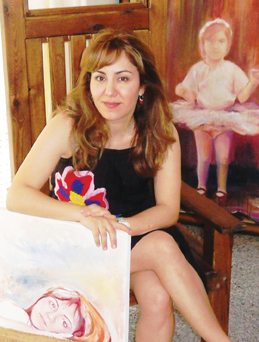 Tell us a little about yourself.
I was born in Greece and grew up in Nicosia. Both my parents come from occupied Cyprus. I studied in Canterbury, UK where I got my Fine Arts Degree and now I live in Paphos where I work as an art teacher and paint.
As a Cypriot artist, and in the world of art in Cyprus, how do you see things?
Cyprus might be a small Island but it has a remarkable tradition in Arts and culture. There is a wide circle of well known and also new artists that are involved in various movements. All these artists have studied abroad and carry back strong influences and techniques from the countries that they studied and travelled. This makes Art facts particularly exciting in Cyprus. The new generation is more concerned now in environmental and cultural events than ever but there is still a long way to go to bring art in everyone's lives.
You also work as an educator here in Cyprus, tell us a bit about the young generation?
Teaching is a great method of learning too! When I get into the process of getting my students excited about art, I reveal my own excitement about the subject. I try to be open and admit that as much as I love art, I certainly do not know all there is to know about it. The art class is an environment that nurtures creativity, inspires innovation, and insists on originality so students and art teachers are motivated to discover, learn and create.Opportunities are endless for the young generation. They can study anything they choose, have a wide range of universities and colleges to choose from and the internet provides them with all the information they require about locations and courses. Cyprus has never been closer to the rest of the world.
Your working environment, the students, the hours that you work, all this, does it affect your daily life, your artwork?
The public school standards are very good in Cyprus and I consider myself lucky to work as an art teacher here. For the past four years I have been teaching at a central high school in Paphos in an ideal working environment with remarkable colleges and students. By means of hard work and remarkable collaboration we have accomplished nourishing environment and enviable academic results. Of course in order to help in making this happen I must be willing to offer a lot of my time and energy on account of my own free time and art work. It requires an exorbitant amount of effort to be a teacher, an artist and a mother at the same time!
This doesn't mean that one is an artist though…
Certainly having a degree in Arts doesn't always mean that one is an artist! Continuous creativity and involvement in the artistic life are essential to the real artist. Having a passion for art is a non negotiable ingredient of course but keeping updated with the worldwide movements and happenings in art is just as important if one wants to be part of the art mosaic today.
What materials do you use mostly?
Conventional painting is usually my preferable way to express myself. I try to make use of mixed media as well creating surfaces and texture on the canvases while applying the paint. I love using the spatula and thick brushes to apply layers of vibrant colours. Figures, mainly female ones are depicted in their environment. Skeptical, lonely, erotic ones tell a little story about themselves if you look at them carefully…
With the arrival of many foreign artists on the island do you think this 'impact' will produce something more important, more worthwhile?
Definitely the more artists arrive here the better for the artistic life of the Island. They bring fresh ideas and innovations.
Any coming exhibitions?
I have already taken part in two group exhibitions this year, one In Paphos and the other one in Limassol and there are always plans for upcoming events. I hope to have a solo exhibition later on this year.