---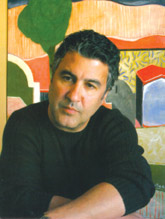 ---
Tell us about how you started out as an artist.
After finishing my Foundation course in Art in the UK, I studied Exhibition Design, which is the designing of exhibition areas. It's a combination of Interior Design but specialising in Exhibits. For example, at museums you design the lighting of the exhibits, the area surrounding them, how they are to be displayed and so on.
When I returned to Cyprus, I worked as an Interior Designer for ten years while I took part in many group exhibitions. In 2001, I was selected to represent Cyprus at the Biennale in Cairo. After that, there were many propositions opening up for me. First was London's Gallery K, that has a Gallery in Nicosia, and from thereon I entered the world of Art in a more serious manner. I had to choose between Design and Art, and finally chose Art.
Your father is acclaimed Cypriot artist Andreas Charalambides. This must have been quite an influence in your final decision?
I literally grew up in my father's studio. So, I have always nurtured the love and respect for art since my very early years. Though I think the reason I first opted for studying Design, was probably because I didn't want to follow the exact footsteps of my father. But I always knew I would do something relevant with either designing or drawing. But here in Cyprus, I couldn't work on what I had studied, so I worked as an Interior Designer.
And ever since you've made the decision to devote yourself solely to art, you have obviously produced quite a volume of works. What is art for you?
I have participated in many group exhibitions. I have done around eight solo exhibitions, mainly in London and Nicosia. In the last three years, my work depicts architectural scenery, that is based on observation in relation to their surroundings. This is what art is for me. Apart from the usual definition of art, which is the creation of a work through personal experiences of the artists' environment, art for me, is a spiritual urge to be inspired and to create. A means of expression and a way of communication between the artist and the audience.
What do you think about the art scene in Cyprus nowadays?
Well, firstly, there has been a great change in how people perceive art today compared to many years ago. Now, they are embracing art and its artists. I remember when my father started out for his studies, it was a very difficult time then, because it wasn't considered as an actual profession. Today, things are different. It is easier today to study and travel abroad. Also, there has been a positive evolution in young Cypriot artists, in the sense that it is easier to visit museums and art galleries abroad today than ever before. And in doing so, there is a positive impact on their work.
Tell us about your work.
My work depicts simplified architectural forms, without many details. I only put details in specific places that I think are needed. It's a combination of form and colours, even if it is still life. I don't paint something just to please the audience. I paint because I want to, and only if I like what I see, I present it. I do believe that paintings must be exhibited and purchased. This is the way of the artist communicating with the audience, or collector.
So this is the dilemma felt by all artists, if it's art or a product for sale…
This is something very difficult to avoid. The job of an artist is usually 50% talent and 50% hard work. By working hard on your talent, you create more works of art, thus developing your style, accumulating experiences and creating new ideas. In order to work hard though, one needs to work at least six to seven hours a day on his creations. An artist can't survive only on his art, so you need a second job. When this job spends too much of your time, you miss out on developing your art to its maximum potential. So, by not selling your paintings and having to work another job, means you are unable to take your work to its highest achievement possible. An artist should be able to sell his work, to have a certain income from it, so he can create more of it.
Excerpt from Review
"With his bold use of colour, Michalis escapes naturalism. His work depicts places that are not real places, but that invite imaginary adventures. We identify shapes that are familiar - palm trees, houses, churches - but they are not actual places we can name. Rather, his paintings are designs of places, re-interpreted and re-imagined through his mind's eye and then recreated by his brush and palette. The palm tree and the cloud don't really exist as we see them in the work - "It's how I see them", he says. His work is based on reality, but is not realistic. In fact, it is naïve, "but on purpose" he says, smiling." - Claudia Konyalian.
Interview by Natalie Hadjiadamos